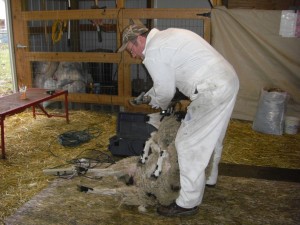 Dirt has been shearing for over twenty years.  He started with his own flock after watching someone else shear it for him.   That first year he sheared we had some purple polka dotted sheep in our pasture (from the gentian violet wound spray)  and it only took him about an hour to do one sheep.
Needless to say, after twenty plus years, he has gotten much better and your sheep won't be spotted at all, unless you'd like them to just wear some spots for the fun of it, he always has his can of gentian violet on hand just in case.
He has gathered a lot of information from other sheep shearers and shepherds over the years and he has even had a fellow stop in from Down Under to show him how it is really done.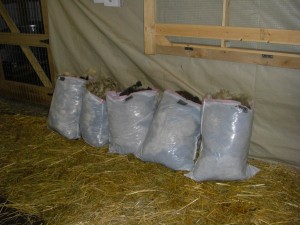 Many of his faithful customers are wonderful, talented handspinners.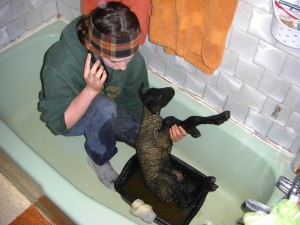 This portion is outdated but left in for historic perspective. 
Anna Colleen, his apprentice for a few years, has been handling sheep ever since she could walk.  She spent a few years in 4-H, wielding a set of clippers and a carder, and loves to hang in there with her dad and attempt to go sheep for sheep with him on his larger shearing jobs.  
As of September 2010, just when she got very good at shearing, Anna became Anna Coulter and now resides in Burlington, WA.  She might be down on the weekends that her dad has a shearing job but don't count on it.  When she is more settled into married life she just might take some of her dad's old shears and start a northern service!
And she did!  Feel free to contact us for her information if you are in or near Skagit County!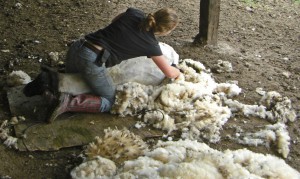 But for down here: Pierce, King, Thurston, Lewis, Mason (even as far as Wahkiakum County)!  her sister, Elisabet, aka Bet has taken over.
A few summers ago, after a busy spring and shearing season, Dirt had not yet gotten to our sheep (you know, the cobbler's children go barefoot) but came home one day to all of his sheep shorn for him, Bet did them all including our big ram in one afternoon all by herself (all I did was run over and take pictures at the end of it all)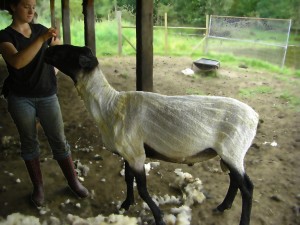 So now, Dirt rarely goes on a shearing call without his new sidekick, Bet.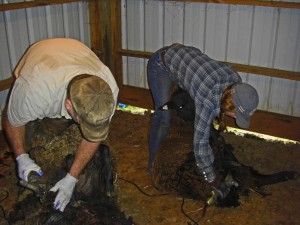 He has been sending her out on her own appointments for smaller jobs (which are getting bigger and bigger due to the large influx of calls.  Lots of shearers retiring – they must not have daughters.