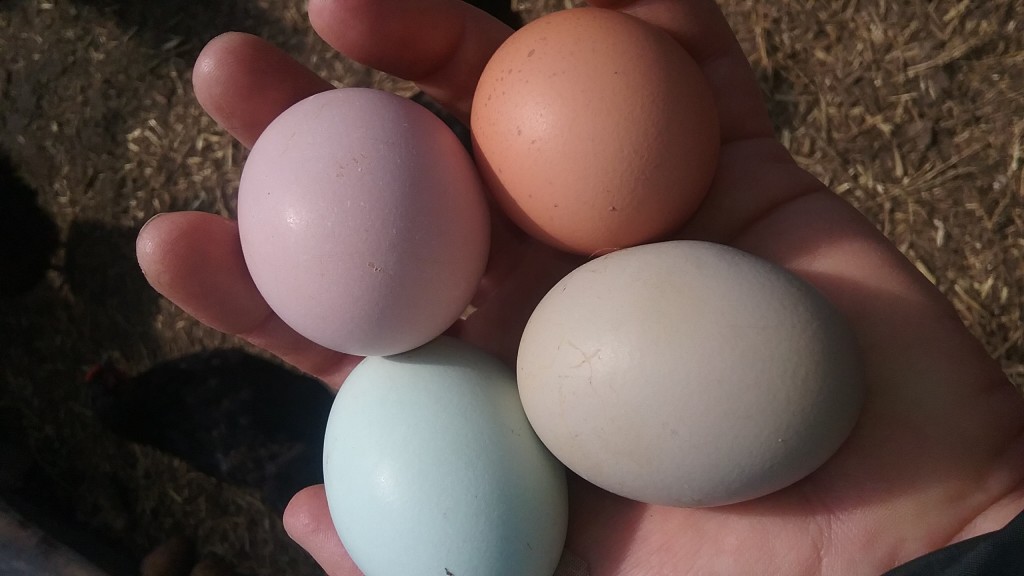 Spring is a hard season for me here in constant rainy land.  But the bright spots come in the form of eggs.  The feel and colors thrill my heart and pick up my soul.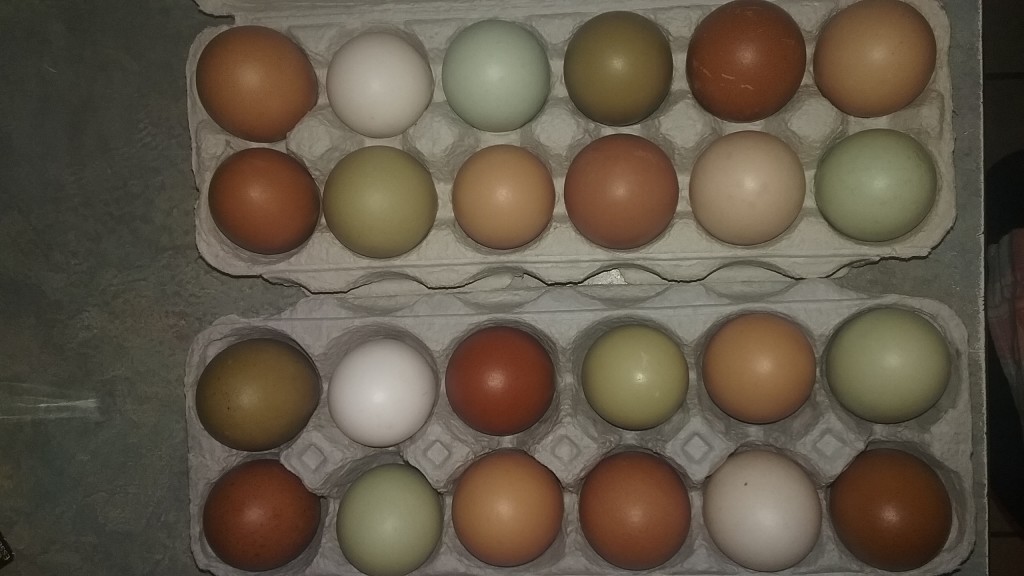 I collect eggs all during the day, in a nearly vain attempt at having a clean egg to deal with.   The eggs meant for sale for kitchen use I gentle wash in plain warm water and reseal them with coconut oil or a mix of beeswax and olive oil, for extended shelf life and ease of use for our egg customers.
Often, the eggs I keep for our house are unwashed until used, but I know that can be a difficult hurdle for non farm folks, sometimes even for us, but I am happy to sell pretty clean unwashed eggs as well, upon request.
Then, if eggs are not enough to make my heart sing,  there are the chicks and poults!  A perfect day brightener!
I love hatching out lots and lots of chicks, poults and ducklings. We aim to carry at least 150 hens each year, so given that half of a hatch are males and a few of the pullets just aren't up to snuff, I hatch out lots for a reason.  I do end up with extras but I do not like selling chicks or poults, just too much stress to please customers.   I may be selling the extra juvenile turkeys, that are past the somewhat fragile poult stage.  Check back with me later on that.
I will sell turkey hatching eggs on those occasions when I feel I have plenty of little poults filling my brooders. Like right about now, $24/Dozen eggs, kinda cheap on accounta their being mutts and all. I just can't bring myself to eating turkey eggs, they seem so expensive of a thing to eat.  The eggs for hatching are collected through out the day and marked on the bottom of the egg the day they are collected. Set on a cool dark shelf and tilted daily.  The top of the egg is marked on the date they go into our incubator.
I specialize in mutts, some folks call them "heritage turkeys", I refuse marketing ploys, okay, blatant trendy marketing ploys.   The original stock of our VF&G mutts were Narragansett, Blue Slates, Bourbon Reds, and Midget Whites.
Our Midget Whites, the one turkey breed I do have isolated out, seem a bit large for their standards, but really, why eat a turkey the size of an overgrown chicken.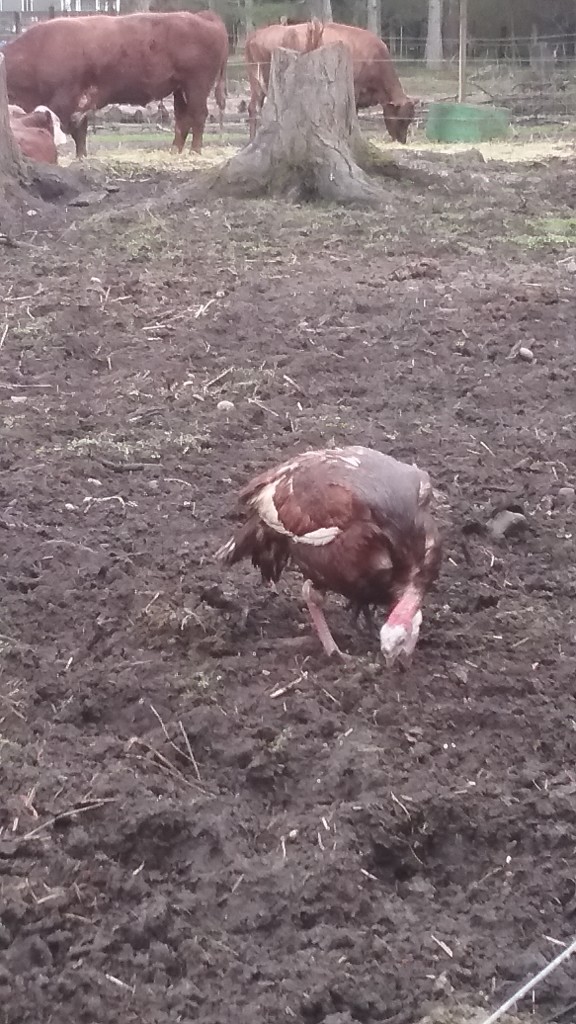 We do have a Bourbon Red tom, he is resting from breeding for a bit to recoup from a fighting injury.
He seems to enjoy being the one free ranging, cattle hanging out turkey.
More about all the chicken girls and our housing in another post.  I gotta go stare at the brooder pens!
Sorry the comments to the blog are closed.  Too much spam, too little time to figure out a solution.  If you are interested in eggs, and are local, look up on our contact page as to how to get in touch with us.