Beginning this summer, mostly just on Sundays, I'm putting in a new garden near the house, right by the asparagus patch, just south of the barn, my long awaited Holy Trinity Garden.
This garden will essentially be in the shape of a clover leaf, the famed illustration of Saint Patrick to the Irish to explain God: how he can be one God, but three persons. You know, "God in three persons, blessed Trinity".  The whole illustration and its meaning, and why my children would occasionally witness me going slightly askew when I saw four leaf "lucky" clovers in decorations on St. Patrick's Day.  Not lucky leprechauns, the Holy Trinity.
Back to the garden.  The pathway, starting out as the stem from the back lawn, and winding around the outside edge of each leaflet, will be sturdy low growing herbs and forbs that the rabbits and poultry can eat.  Eventually the rabbits, in Bunny Cruisers, will feast on lovely things in the pathway as their cruiser moves along the path that is wide enough to accommodate the riding lawn mower should the herbal lawn get ahead of the nibbling rabbits.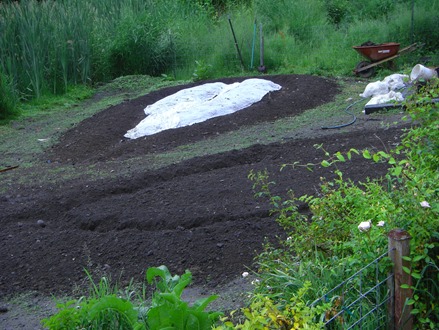 Each "leaflet"  of the clover will be beds of particular perennial vegetables and herbs, ones that are all at the same time food, healing and beauty.  Three different parts of our needs but all the same.    Yep, I can often take a metaphor too far.  But I love it, I love thinking about how amazing creation is, how unfathomable the Creator is.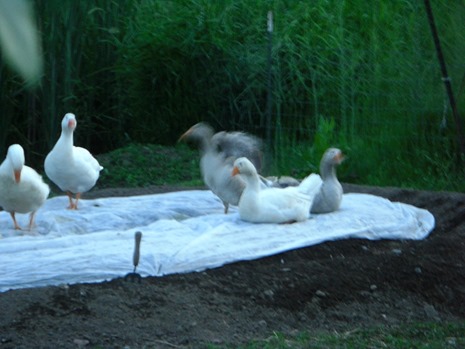 Yard birds will be free to roam and if I really want a plant that they are prone to eat a lot of at some point in the growing cycle, I will have discrete barriers to keep the plants in question safe. I already know my comfrey will need protecting but so far there are quite a few things they don't touch, things growing elsewhere on the farm that they pass and don't devour.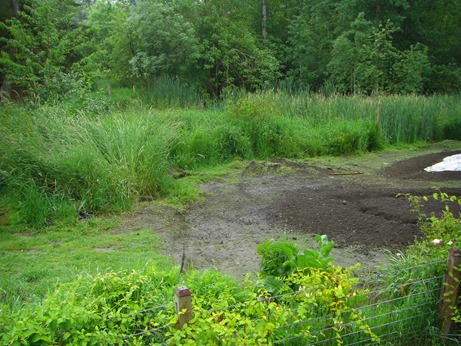 Two of the leaflets of the garden are currently under construction, the beds are made and waiting for plants.  The third leaflet has to wait until autumn when the water is out of the pond so that I can construct a runoff-greywater holding and clarifying pond as the center of the leaflet. I'm so excited to do some major dirt work with my tractor I can hardly stand it!
It will be slow going even on the beds I've made already.  I don't have my plants yet for the garden.  I will be propagating most of them in the next months, some direct seeding, like the herb lawn path and some in propagation trays then pots to hold them over winter in a nice warmish place and then plant them out next spring.  And I will be propagating some roses, thinking of making a rose rope with some very fragrant roses for rose water and rose tea, stuff like that.  Thinking just thinking, it will probably just turn into a couple of rose bushes or climbers on an arbor.  But I really would like to try.  
I haven't made any hard fast rules about only working on it on Sundays, that would be like a law and I am free of those, in Christ.  But I would like a day when I can all day puddle around on something that makes me just happy to be doing, no pressure, no drive to produce; think only of God, ponder the things He has told me, the world He has given me; and hopefully honor Him in the process.