Oh the season of winter squash, if we're lucky, the season can last from October to January hopefully to February, maybe even March with some of the better storing squash. 
But the height of the season is now. 
Most of the winter squash have cured making them store longer but also enhancing the flavor and texture of most all of them. What a delight to the senses and a nutritional boon as we go into cold and flu and overeating season.
All squash and pumpkins are from the same genus, curcurbitacaea, and within that there are four species that make up the world of winter squash and pumpkins in American gardens, one of which is nearly impossible to grow in the Puget Sound region, Cucurbita mixta.
At VF&G we try our best to grow a few varieties of each of the three species we can grow here because each bring just a little twist to the table in flavor and nutrition, not to mention the variety of color and shapes to delight the eyes and heart in the garden and storage shed.  
Moschata –
Of the remaining three, moschata are the most difficult to grow in our area, they are typically 100 plus days to maturity, and those 100 days need to have some warmth to them.   But they are terrific when we can manage to get them to mature. Well worth the work involved of pushing the limits of our growing season. The moschata group have the highest level of vitamin A and a delightful taste.
The ones we've had fairly good success with are, Barbara Butternut, Buffy, Musque d Provence, Chiriman, (top to bottom above).  
Pepo –
Cucurbita pepo include what we normally think of as pumpkins, gourds and all the summer squash.  In contrast to  moschata, these, for the most part, are the easiest to grow here and obviously because it includes pumpkins, gourds and summer squash, it is a big group.
Pumpkins for carving, pumpkins for seeds and lots of pumpkin for pie, custard, soup, casseroles… Can you say orange?
Sweet Dumpling, Hooligan; Thelma Saunders Sweet Potato Squash, an acorn type; spaghetti squash, are pepos we appreciate growing, if not for ourselves, for those we love (LeeAnn hates stringy squash ie spaghetti, so strongly she can't get over it even when it is meant to be stringy, but her girls seem to like them, go figure).
Maxima –
This has to be our favorite specie.  These include buttercups, kabocha and hubbard types, along with the bumpily orange and orange pinks that get dubbed pumpkins.  They can be a bit drier than others, but smooth. Sweet Meat is the least dry of this group and a Pacific Northwest original.
Confection, Bonbon, Gold Nugget, Sweet Meat, and Cha-cha (pictured below) are the ones we grew this year.  In the past we've grown some of the bumpily ones, like Galeux D'eysines. 
Nutritional Benefits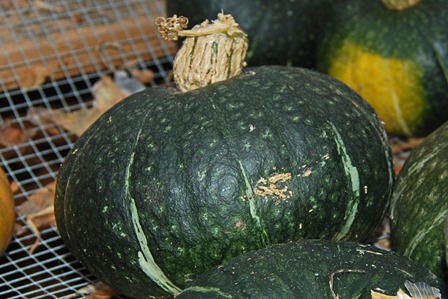 High levels of vitamin A and pectins make cucurbits a great anti-inflammatory food.  Normally thought of as a starchy vegetable and in the past shunned by dieters, but because of the type of starch, pectin, squash aids in keeping the sugar levels in the body steady and guards insulin.  So a definite bonus for those looking to stay or get slim or those dealing with diabetes or prediabetes.
Methods of Cooking
Baking allows you to cook the squash or pumpkin without peeling, then you just scoop.  The little pepo – dumpling and hooligan can actually be baked whole then opened and gutted.
The rest should be opened at least in half, cleaned out and then baked.  We flip ours face down Steaming goes quicker in cooking time but sometimes peeling a giant ball can be a bit daunting.  Though I have also had fairly good luck steaming with the shell on and then peeling, similar to baking but admittedly quicker. When cooking a pumpkin to make puree for making baked goods often it is best to bake rather than steam to keep it on the dryer side.  
Family Recipes –
Mom's pumpkin recipes and what comes to mind?  Pumpkin pie.  But we don't always have the time to do the whole crust thing, so the very very next thing to pumpkin pie is pumpkin custard. 
And then we're off like a rocket with ideas. Michelle, my second oldest daughter, found a recipe for an oatmeal pumpkin baked breakfast thing.  The recipe had the word pie in it but it really wasn't a pie. It looks a lot like pumpkin custard with oatmeal in it.  She and my youngest have both made it and have reported it to be delicious.
We've made pumpkin ice cream and pumpkin pancakes.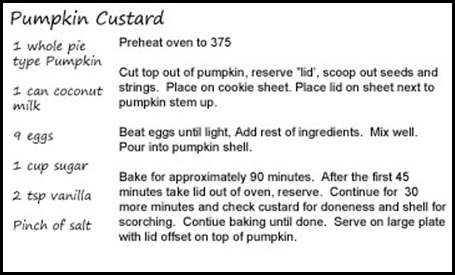 And Thai Pumpkin Custard – which was really custard baked in a pumpkin.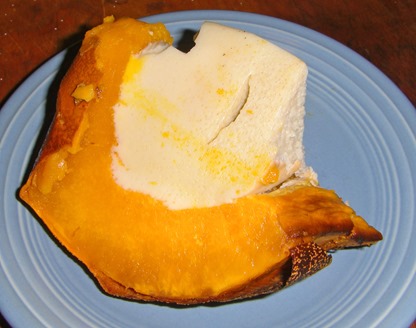 And it looks so cool! Served and sliced. But what is really wonderful is the forgotten world of the savory side of pumpkins and squash. We can see mom putting a chunk of baked squash on our plate, or a mountain of smashed squash with a snow cap of butter melting down. But certainly that is not all there is and once turned loose on the dinner menu there is hardly any left for baked goods.
First on that list?  Pumpkin or squash soup.  Creamy or made with stock. A pureed delight lightened with cream and then with a favorite seafood and a little parmesan cheese – heaven.  Or chunked, with ham, beans, onions…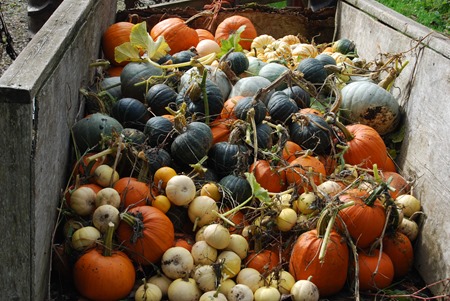 And nothin' but nothin' beats throwing chunks of squash – a mix of them even – in a big pan of roasting vegetables: onions, garlic, peppers, fingerling potatoes, turnips… And yes, we have used pumpkin puree in Mac and Cheese, it was actually delightful. That dish and the parm in the soup and you soon realize that squash and cheese can be buddies.
The idea that winter squash is a nutritional powerhouse has caught on so much so that the internet is busting at the seams with ideas.  Be careful though, a few of the recipes I came across had to be modified.  After the initial glance, I could see failure ahead, and on some of them the failure wasn't so apparent.  But rarely is a cooking or baking failure a complete failure, and almost all the the recipes I have come across are great stimulus for the imagination.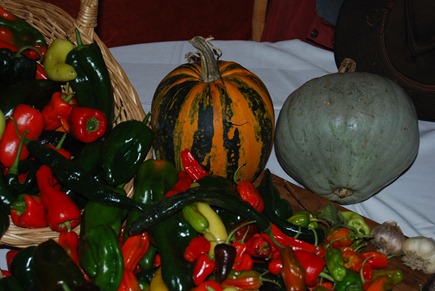 Looking for a chili using mole sauce as the base, I was surprised to see pumpkin in a very authentic recipe.  I made Oaxacan Mole Negro as a chili for Halloween using a bit of roasted squash and pureed toasted pumpkin seeds.  Not a main player, the squash and pumpkin, but integral.  I loved it and it was well received by a chocolate hater, so I figured it was successful.
Speaking of chocolate and then thinking back again on the abandoned baked goods, I've also spotted recipes using grated raw squash, much like zucchini in technique if not flavor.  I haven't tried it, if you have, Dear Reader, let me know how it was.