I don't usually like to strong arm companies, but sometimes, when you are at the end of your rope, ya gotta do, what ya gotta do. 
Here is the pushy e-mail I sent to a seed company, the subject line read, Bummed:
I've been ruined by you.
Ruined for any other pepper, with your Red Belgian that you sold me a couple of springs ago.  Pure ruination.  That I loved Red Belgian would be a huge understatement.  I love Corona De Rosso, and L. Paprika.  I was thrilled with Pasillo Bajo.  There are no words for how I felt about Red Belgian. 
When it wasn't in your catalog this last spring, when I needed more seed,  I went in search of it elsewhere.  It didn't exist. 
At least not under the name "Red Belgian", so I looked for peppers whose description matched if not the name.  I thought I found it.   But alas, it's just another pepper to admire and add to my collection perhaps, but still not on the level of Red Belgian.  
I am despaired. 
All summer,  when I looked at my three lovely tomato and pepper hoops standing in my garden, I would immediately get a thrill at what delights are inside, and then I'd quickly remember that I am without my darling Belgian.  And my feet would fail me, I wouldn't step quickly to the garden, I'd trudge. 
Trudge dutifully because I am after all a farmer, but what I really wanted to do, want to do, is throw myself on the ground into the mud, weep and wail.  I'm even beyond taking out my frustrations on muscling out tenacious weeds, what would be the point, if I cannot grow my Sweet Red Belgian ever again.
Have I made myself clear about how you ruined me?  Can you please give me hope?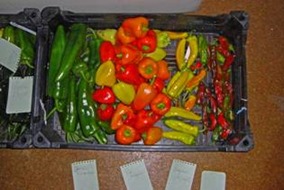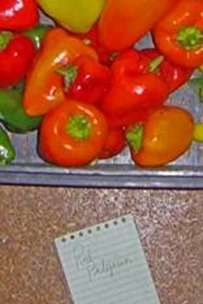 Will I ever see a Red Belgian sitting in my harvest basket again?   Soon? 
Please send me good news.  
Peace LA
Vicktory Farm & Gardens
I received a near immediate response.
I am so happy to be the agent for the lifting of your (quite justifiable) despair. To my knowledge, Red Belgian will be offered again for the 2014 season. It should become available in about a month when our new listings will go into effect and the website will be updated. So check back then. And if for some reason I am wrong and it is NOT offered, write me back and I'll try to find you some. Because no one should have to suffer as you have been made to!
Randel
Seed Production Manager
Baker Creek Heirloom Seed Company
2278 Baker Creek Road
Mansfield, MO 65704
417-924-8917
I'm a forward lookin' farmer tonight.  You can bet your boots Dear Reader, that even though my dining room table right now holds some wonderful fall pepper magic,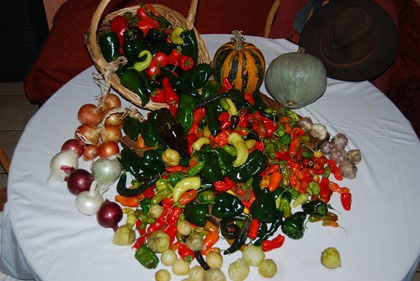 I will be ordering plenty of Red Belgian seed from the Baker Creek Heirloom Seed Company in a month AND planting lots, AND saving seeds – just in case.