Yep that's what happens when you plant twice as many seeds as you need plants, you end up with plants for sale.
Unlike some of the other things that I start from seed, like flowers, tomatoes need good adoptive parents. Extra flowers I can just stick out any where on the farm and just let them go.  Tomatoes need staking and tying and harvesting or I end up with more guilt than this ol' Catholic girl can tend.
So come relieve me of some guilt and get me some room.  If you have questions about the different varieties just message me in your own choosing and I'll answer as soon as I can.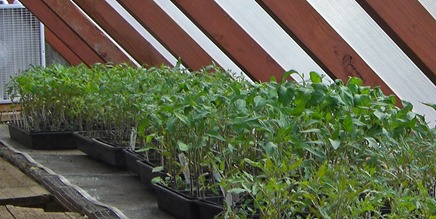 Paste/Sauce Type:
Roma 6

Plum Dandy 21

Oroma 16

San Marzano Gigante 3 -3

Mama Leone 7

Beaverlodge Plum 5 Great for hanging baskets
Slicers:
Stupice 21

New Hampshire Sure Crop 12

Kellogg's Breakfast 20
Purple
Indigo Rose 14

Japanese Trifele Black 14
Storage:
Reverend Morrow's Long Keeper 3
Cherry:
Chocolate 16

Early 15

Oregon 12

Black Cherry 3
The numbers after the variety name are how many I have as of April 10th.  First say so gets them for $3-4 each depending on variety, the purples, Chocolate Cherry, Rev. Morrow and Beaverlodge are $4, the other plum (sauce types) are $3.50 the rest are $3.  Prices will stay the same until they are all gone and I'll hold them until you come and get them when you pay me.
So there it is, I will also have a few pepper plants and tomatillo plants but I'm not sure right now what all I have, not much I know that.  I didn't really intend to have plants for sale, not this year anyway.
All tomato plants will be up potted to quart size with in the week and moved to their own little hut to stay until they are adopted.  I can't ship, I don't even wanna think about all that would be involved not to mention the regulations.  Yikes.  So this info is for local folks, you know south of Tacoma, WA.   Please don't drive any farther than that, there are plenty of other places to pick up tomato plants between you and me if your farther than twenty or so miles.