Crowded
The Hippy Hot Hut is crowded!  Packed full and I haven't even dented what I was supposed to have in starts this year. The bench is full, and so is the north wall shelves, hanging bar and floor.
The bench is mostly propagation heat mat covered and in direct sunlight.  It is the main place where seeds and cuttings get propagated.  I'd like to tell you Dear Reader that it is the only place, but then I would have to hide the seeds and starts in my kitchen window.
The north wall area is warm but not as sunny as the bench it is a great spot for all the fuchsia pots and parts are sunny enough for some grown up sun lovers, but it is only slightly larger than the plants I use around the farm with nary room for increasing these for gifts for friends and for selling (Dirt's favorite phrase).
Right now, this very week, things need to move off of the  bench.  I ran out of room for propagation a long time ago, it is now do or die, and some things are just plain going to have to be late.
Next year, I need to have an auxiliary house where seedlings and rooted starts can grow out at a cooler temperature with more elbow (and leaf) room.  Ultimately it is better for them, better for me and better for their later seeded garden fellows.
Tomatoes Move Out!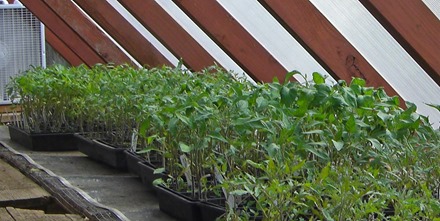 Three hundred tomato seedlings don't take up much room, three hundred tomato plants become a jungle!
And yes, I knew this.  But each year I think I will magically solve the problem.  Guess what?  Problems don't always get magically solved.  Who'da thunk it!
Day before yesterday, I painstakingly separated the tomatoes that went out to the Market Garden tomato hoop house all 160 of them.  Painstakingly?  Because I had to decide how many of each variety I really wanted out in the MG, and then which plant goes and which one stays behind.
The ones that stay behind will get up potted and put "somewhere" until my daughters can plant them out.  A few of those that stay behind will go into the empty places in my asparagus beds and other spots in the gardens around the house for quick fetching into the kitchen and snacking on while out working.
On to Other Things…
With the room from the moved tomato plants I got on a roll yesterday, up potting the peppers that will stay in the hot house just a little longer.  And I had my visiting daughter up pot a majority of my petunias.  I did quite a bit more after she left and I'll finish the rest today.
Then I will finally get to seeding new trays!
And yes,  I know I'm late on a number of duties, tell me something I don't know.
Blogs & Internet Work
Speaking of changing places.  I went into yet another downward blogging spiral recently when I was notified that Google Reader was going to be no more.  Ugh.
So the day before yesterday I decided to figure out what to do.  I believe I found the solution.  Netvibes.  I may even be in love with it.  We'll see.
Netvibes (and trust me, I am no techie, so I could have this all wrong or at the very least all the wrong jargon) makes up dashboards for you.  The dashboard not only holds blogs you want to keep up with (like Google Reader used to) but it houses bookmarks and website favorites in a very organized manner along with a bunch of other groovy looking webby stuff that I have absolutely no time and therefore no business looking at or adding to my dashboard.
From your dashboards you drive around the internet.  And just like how you might have a commuter car, a family touring car, a farm truck, and a tractor, Netvibes has you make dashboards for different topics that you want to keep track of.
If I get too spread out  I have a tendency to get too overwhelmed, like the opposite of being overwhelmed because I crowd everything I need to do right on one page in front of me.  So yes, I have more than one dashboard but not one for every topic that's for sure!  Right now I have two dashboards, my social network and Vicktory Farm & Gardens. I reserve the right to expand my needs as I see fit!
Essentially, so far I really like it. I personalized my Vicktory Farm & Gardens dashboard with the title:  Productive Performance thru Prudently Planned Practices.  It is the same subtitle I've given our Farm Manuals.  Maybe this year it will become a reality.