Not really, truth be, the opposite of shocking.
It is vacation time from teaching for Dirt, that means picking up where he left off on big projects. 
On that list, the electricity in the Hippy Hot House was at the top.  Up until now my electricity has been delivered via drop cords, several.  Not very efficient and when water is present, a little nerve wracking. 
Since part of putting in electricity means going behind the plant shelf on the north wall, the shelf had to be moved, plants and all.  Before all was put back the shelf got redone from my emergency do up.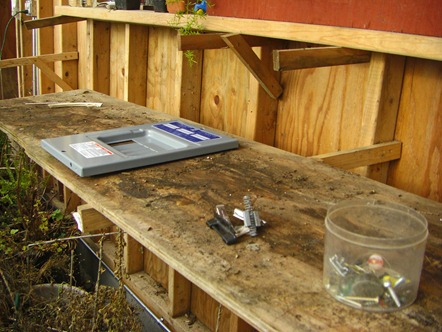 Sometimes emergency do-ups stick around a lot longer than they should.  I never lost a pot off of the shelf and I talked myself into how handy it was that the water could run right off the shelf away from the wall.  And it even tilted the pots toward the sun. 
But really, I was only trying to make myself feel better for the shoddy job and the lack of desire to take it apart and do it again. 
So now I have a fixed shelf and electricity!  Two, two, two things in one!  It won't be long now until I have a water heater in my HHH and I won't have to heat water on the wood stove to water my seedlings with.
Dirt is awesome and it is a huge blessing to have such a handy husband, who by the way, is also handsome.  But we had a bit of a laugh over this job.  When he started it a couple of days ago he told me that he had his wires crossed at the garage where the power originates from.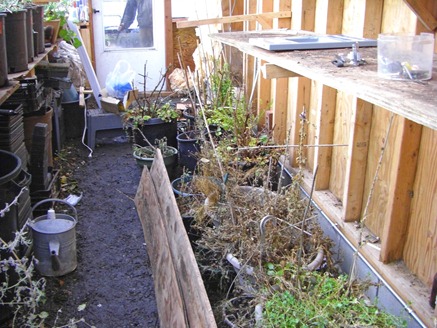 Yesterday, as he was finishing up, picking up tools and sitting on the step that leads into the Market Shed, I told him what I thought about having a handy husband.
I told him that I realize how lucky I am, how fortunate it is that my husband knows how to do a lot of things.  Then I told him when I thought about that I also realized that it could be a bad thing, because it appears that I have a handy enough husband to do things that could also accidentally kill me. 
…He's on vacation, doing things he enjoys, he got a chuckle out of my observations.