Ow.  I lifted a thousand pounds today.  Not all at once!  Don't be crazy Dear Reader, I did it fifty pounds at a time.
After having the sheep pasture drug out real nice, with spring approaching, and the rain a comin' it was time to apply lime. 
Lime or calcium, sweetens acid soil, and yes siree the PNW has acid soil.  We grow some great moss.  So to grow some great grass we add lime to our soil.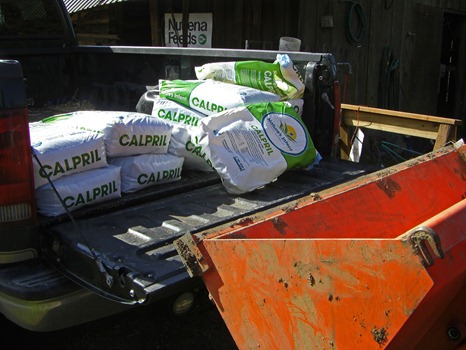 The load of lime Bet and I ran up the big valley for yesterday (Wednesday).  It was my great idea to load it from the truck into the tractor bucket so that I could take it out into the field and pour it into the cyclone seeder-fertilizer two at a time.  The other idea was to have loaded it into the tractor wagon and have the Beast take it to the field.  I figured one tractor, the Lil' Orange Tractor, could do it all herself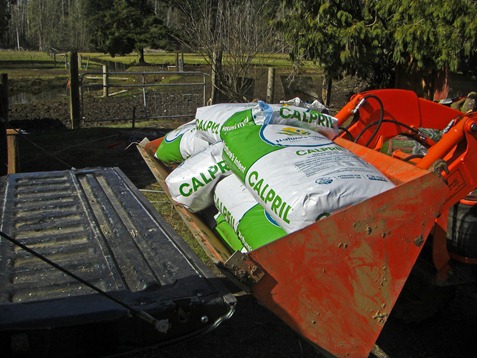 I guess since it was my idea and I didn't need any one to drive the Beast, it was up to me to get the bags, fifty pounds a piece, all ten of them into the bucket. (Dirt and I did two bags last evening right after I got home to make sure the cyclone worked)  Once in the bucket and driven to the field, it was also up to me to get each bag hoicked up into the cyclone. 
I did.  And I'm done.