A bright "Greeting" from the garden for the Header Challenge theme.
It was my choice for this week, I had no idea what I wanted to photograph as my header, thought I might like to keep the puppies on the header but the thought of trying to get the perfect shot of them… well it sorta made me wanna cry. 
But for some reason, for a theme, greeting kept coming to mind, and so that is what I told the challengers last week, "Greeting". 
I still had no firm ideas this morning when it was time to head outside, okay, past time, because I was procrastinating, ya know sometimes it pays off and somebody comes down with the flu and what ya had to do gets postponed.  No such luck, and as a matter of fact, Stewart, one of the challengers said he wanted everyone to be on time this week.  Sheesh.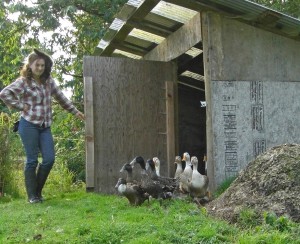 Out I went, and started thinking it would be fun for everyone to be greeted with all the animals that greet Bet every morning.  First up were the ducks.  Can't say that their greeting was very overwhelming like it usually is.  The chickens were slightly worse and it went steadily down hill from there with the rest of the crew.  They could possibly be crabby with the late arrival of their doorman, er, doorperson, or their breakfast.  Who knows but it sure wasn't workin' out.
I began to wander around and I realized that I haven't photographed much of my gardens or blogged about them when I have.  So there you go, today's greeting comes fromthe garden side of Vicktory Farm & Gardens.  I'm hoping that it will usher in a week of garden posts, what's blooming or bloomed, what changes have happened and maybe what is on the docket to be changed.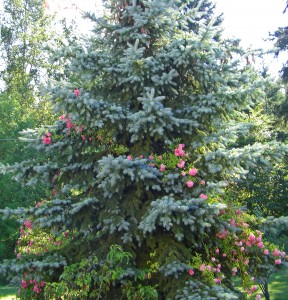 It was easy for me to pick my greeting subject once I decided to go with a greeting from the garden.  My rose draped Blue Spruce never fails to greet me exuberantly this time of the year.  There are few things that really send my heart soaring in the morning, or coming home from being gone, like my Blue Spruce and his lovely companion Rose.  Sometimes she is a bit earlier with her grand costume, more mid July but many things continue to run a little late this summer.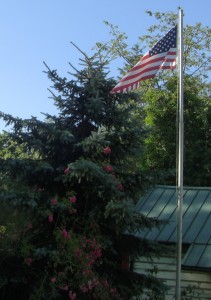 This couple are main figures in my Memorial Garden.  Our flag flies here most of the year, plants and things that remind me of the countryside I call home, and bits and pieces of memories of my parents are beginning to collect in the garden presided over by these two. 
The rest of the week I will show you more of this garden and a few others, but for now go to my side bar and see what the other challengers have for my theme this week.