Bran' New Goslings, my entry for this week's Header Challenge.  And yes, it was my choice for the theme, and yes, I knew exactly what I wanted to put up, so yes, I picked the theme to fit my picture! 

I don't usually take advantage of my choice week like that but I couldn't resist.  Check on my sideboard for links to the other challengers and go see what they did with the subject bran' new.  I've posted a bit earlier than the others usually do, so you might want to give 'em a minute or two.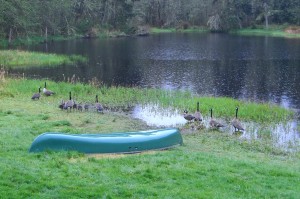 Here at Vicktory Farm & Gardens there are four bran' new Canada goose families swimming in the pond behind our house and Barn Pond.   The families were on slightly different hatch schedules and only appeared for viewing once all their goslings have hatched and are ready for a swim.  It has been amazing to see how terribly fast they grow.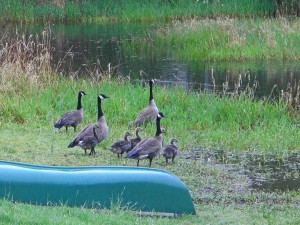 The first batch is getting quite big and beginning to mimic their parents vocabulary and body language.  It is all quite fascinating to watch.  Their communication is quite intricate especially when all the different groups meet back up in late summer and fall.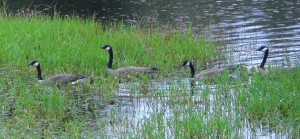 By then several different flocks, each made up of a few extended families, congregate on the pond at night and then leave to feed on pastures in the morning.  Each group comes and goes within their larger flock and it takes communication to know when your flock is flying out.  Right now the bran' new ones are learning the ropes without the pressure of the bigger family reunion.
The appearance of the goslings will go down in the Just Now notebook, it may or may not prove to be a telling phenological event for here, mild PNW.  It may be more connected to daylight hours than anything else.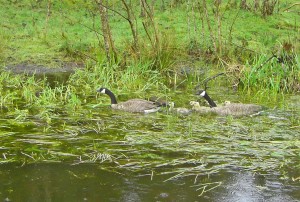 This week is full of more "bran' new" news and "just nows" so I hope that my bran' new self-imposed schedule will accommodate a few more posts during the week.  Remember, more frequent infrequencies?